Discover more from This Week in Africa
Democracy, Development, Daily Life
Over 7,000 subscribers
Five Trends that will Shape Urban Africa in 2023
Uncovering the politics of African urbanization
Africa's population is booming, and most of this growth is happening in its cities. The future of Africa is urban, creating new opportunities — and distinct challenges.
Here are five trends that will shape urban Africa in 2023.
1.     Innovative forms of affordable housing
African cities face a huge affordable housing shortage. Governments need to find innovative ways to provide more housing, and they will face increasing pressure from citizens, social movements, and voters to do so. Affordable housing, especially in Africa's rapidly growing cities, will become a central political issue in the years ahead.
Policymakers admit that informality is now a central part of Africa's urban experience. Patrick Cobbinah and Brandon Marc Finn go so far as to call this informal urbanization, while Chandan Deuskar's excellent book demonstrates how informal politics in most of the Global South sidelines planners and shapes urban growth.
Increasing the supply of affordable housing requires turning to the informal sector for accommodation. As Astrid Haas asks: Can we do informal housing better?
One approach is to focus on small-scale rental housing, or backyarding, which is an important strategy to alleviate the housing crisis in South Africa. This is how it works. Another approach is to focus on in situ infrastructural upgrading, which has shown signs of progress in parts of Accra, Ghana. Some governments are investing in housing schemes, especially for state workers. Others are already looking to outsource their affordable housing projects. Community-led design and planning could also lead to housing justice.
The time for global housing studies is now.
2.     Gentrifying neighborhoods
Many hip neighborhoods in Africa's global cities are gentrifying. Ruth Maclean's insightful article about Dakar's Biennale discusses how "the city's broader art scene is part of what's driving the construction and gentrification boom that is creating the new Dakar." Artists and makers are doubling down on Johannesburg, transforming the city. Similar trends are occurring across Lagos, Accra, Nairobi, and other large cities across the continent.
As African music, fashion, and food goes global, the effects are felt in the very urban neighborhoods where these creative forces are taking place. On the one hand, these innovative cultural practices can serve as everyday forms of resistance to a foreign and imposed aesthetic. On the other hand, they can exacerbate underlying inequalities as African cities gain in the global luxury housing market by initiating processes of gentrification.
Africa's largest cities are entering an important stage of growth where gentrification will likely become a word that sparks intense debates over who belongs in the city. It could also spark new protests against redevelopment, something Eleonora Pasotti documents elsewhere in her excellent book Resisting Redevelopment.
3.     Heightened focus on emerging cities
Small cities between 100,000 and one million people are gaining attention for their ability to reduce poverty. They are often closer to rural populations and provide important markets for agriculture and other goods. Secondary cities can play a crucial role in a country's rural-urban transition, and governments need to deconcentrate resources from capitals and megacities by investing in infrastructure and building state capacity elsewhere.
Emerging cities can help bring development to the people, but only if scholars and policymakers understand how they work. In a recent report, Cities Alliance and the African Development Bank emphasize how secondary cities fit within a "national system of cities." This systems-based approach focuses on how urban areas are integrated (or not) into larger political institutions and economic domains.
Yet there is very little understanding of the underlying politics that shape the growth and developmental prospects of Africa's emerging cities. New research in political science uncovers key characteristics that distinguish large cities from smaller ones.
Drawing on evidence from Brazil and Indonesia, Alison Post and Nicholas Kuipers find that smaller municipalities have more basic public health clinics and schools per capita, due to lack of non-state alternatives, fewer concerns regarding "urban" problems, and politicians' ability to claim credit for provisioning services. The authors conclude that the political logic of service delivery differs across cities of different sizes because of distinctive citizen preferences and politicians' incentives.
In a systematic review of existing scholarship, Tanu Kumar and Matthew Stenberg suggest that smaller cities exhibit distinct patterns of politics. They have different sex and ethnic diversity ratios that shape political participation and modes of cooperation. Smaller cities typically have less resources due to lower tax revenues and less foreign direct investment. Intergovernmental relationships – especially transfers – often play an outsized role in urban development. Party systems and partisanship, electoral rules, and incumbency advantage are different, often prioritizing local conditions over national political concerns.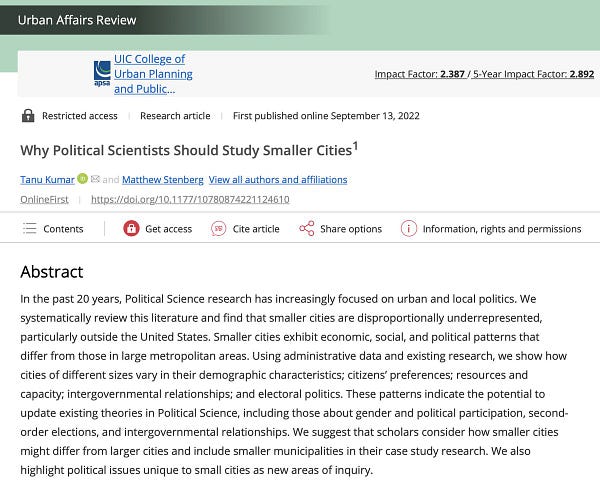 Finally, smaller cities might be more likely to be destinations for rural migrants, as Cristina Udelsmann Rodrigues explains in the context of Angola's emerging cities. They can be industry or boomtowns (like many cities in the Copperbelt across Africa), university towns, or satellite cities. But this does not mean that they will experience more conflict. On the contrary, Nick Dorward and Sean Fox find that smaller African cities experience less protests than larger ones that are more politically important.
It is for all of these reasons that GLD is forming a research environment for the study of political change and local governance in emerging cities, funded by the Swedish Research Council. Stay tuned for next steps!
4.     Confronting flooding
Coastal floods that used to happen every 100 years are now occurring at a faster rate.
African cities are especially vulnerable to flooding. In 2022, massive floods and mudslides killed more than 400 people in Durban, South Africa. It was "one of the worst weather storms in the history of our country." Accra flooded, as it does every year, and so did Mombasa, Freetown, N'djamena, and Kinshasa. Floods killed hundreds and displaced more than 1.4 million in Northern Nigeria as well.
Municipalities are tasked with confronting this challenge. This will be especially important in coastal West Africa, a region that Howard French argues will shape the coming century.
What are cities doing to build resilience to flooding? Lagos has installed a pumping station. Freetown's mayor Yvonne Aki-Sawyerr looks to reverse deforestation, and hired the world's first Heat Officer to help. The Sinking Cities project has some novel suggestions.
5.     The impact of Big Tech
In last year's post, I noted how the arrival of Twitter in Ghana, Google's continued investment, and the emergence of tech hubs across the continent introduces digital infrastructure, foreign capital, market competition and job opportunities. Prince Guma's Rethinking Smart Urbanism does a nice job of discussing how emerging technology can contribute to smart urbanism in cities across the global south.
Yet others are concerned about the role of Big Tech in Africa. The use of QR codes on informal settlement cabins in South Africa triggered a debate over privacy. A new Amazon Headquarters sparked a feud among indigenous South Africans over the disputed parcel of land. Kenya's new e-service platform is full of glitches, leading to new questions over implementation. Formalizing addresses in Ghana failed, offering important insights into the limits of technology in solving urban challenges.
Furthermore, Silicon Valley's next big thing is building cities—often from scratch. Some of these new cities look to keep talent on the continent. While new scholarship examines how Big Tech and African startups are reshaping the continent, the next step will be to assess the role Big Tech plays in African city-making.